Excavation at Santa Cruz
Removing fossils from the sites presents special problems because the material must be extracted when the tides are low and winched to the top of a steep cliff. Specimens are found projecting from sandstone and claystone layers in the inter-tidal zone and removing them is achieved using a gas-powered cement saw.

Here Juan Molly (Museo de La Plata) is removing a specimen at site Estancia La Costa using a cement saw.
Once a block containing fossils is excavated, it is transported across the shelf beach to the base of the cliff using a wheeled cart.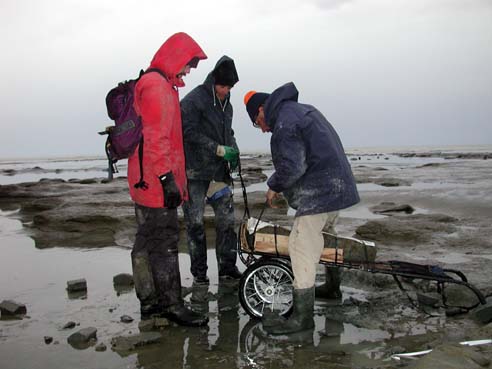 Pictured are Jonathan Perry (Duke University), Sergio Vizcaino and Juan Molly (La Plata).
The blocks are moved to the base of the cliff.

This is the Puesto Estancia La Costa (Corriguen Aike) site and pictured (left to right) are Blythe Williams (Duke), Carlos Luna (Cordoba), Perry, Vizcaino and Tauber (Cordoba).